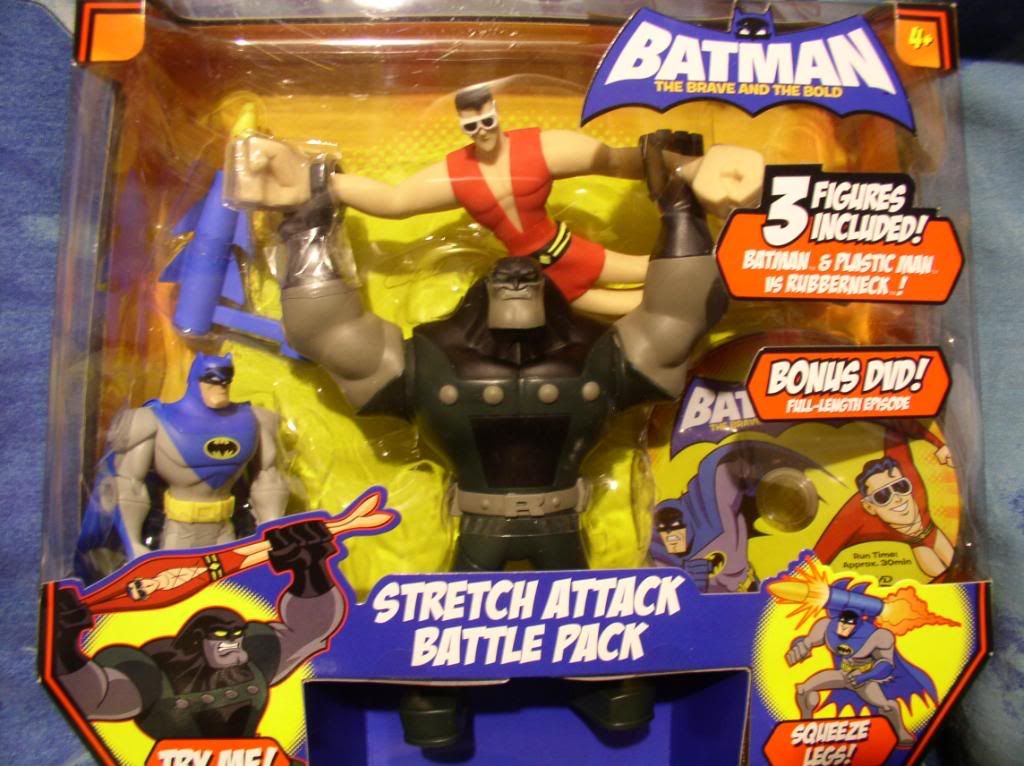 Yesterday I got a Batman brave and the bold set called "Stretch Attack Battle Pack!" with Batman (of course) and Plastic man VS. Rubberneck! *see these characters in the Bouncy Boundaries of Evil! Remember
my story
about them?
I found out about it Thursday on my dad's computer while looking for a Gentleman Ghost. I got ecstatic but it was $20.59. "Dang it, I don't have enough." To see how close I was, I counted my money and luckily had $20, literally counting every penny. (Later I found out I had $19.65.)
Dad said I could earn tax and the trip to the store by vacuuming the car. So on Saturday I finally went to the store, but it was $22.00 plus tax. (And my dad made me figure out the tax.) I was really upset. I started sweating and I ran to my dad. I was scared that I wouldn't be able to buy it. Aaaagh!
Dad asked me if I worked enough to earn the rest. I said yes, because I not only did my mom's car but I did my dad's car. And his car hadn't been cleaned since 1926. At the end, I finally got it.
I'm playing with it up till now. It comes with "Terror on Dinosaur Island" ( Brave and the Bold episode #2), so all of that was worth it even though it was one toy. The plastic man in that set is soooooooooooooo strecthy, the Rubberneck looks like he came out of the T.V set, and the Batman had a bat bazooka!!!!!!!!! I highly recommend it, up to the moon.